Luxury Taxi Hire in Ajmer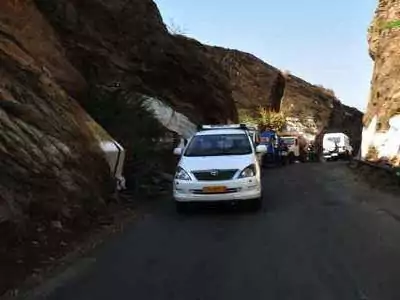 Taxi In Ajmer Is One Of The Most Professional and Budget Friendly Taxi Services providers In Ajmer. We Are One Of The Leading Providers For Luxury Car Hire In Ajmer. Our Company Is providing It's Services Since More Than a Decade Of Time. Our Value To Money and Satisfying Services Will Make Your Event Worthy. We Have All range Of Luxury Taxi Cars Fleet In Ajmer  Available For Our Clients. However We Also Provide Our Luxury Car Hire Services All Over Rajasthan. Our Rich Fleet Includes Toyota Fortuner, Mercedes C Class and S Class. We Have Audi , Volkswagen , Toyota and Other Popular Cars From Toyota and Tata. Toyota  Camry , Audi A4, A3 and We Also Have Suv Cars Like Mercedes Suv and Toyota Haiche. All Our cars Are Well Maintained.
There Is a Huge Demand Of Luxury Car Hire In Ajmer For Wedding and Other Purpose.  There are Lot Of People Looking For This Service For Personal Usage Or Corporate Bookings. People Search For Luxury Cars For Newly Wed Couple's. it Is Highly In trends To Use Luxury Vechile's For Events and Royal Weddings As Well As Other Occasions In India. There are Also Lot more Luxury End Clients and Rich travelers Using The Same For Their Services. Ajmer and Pushkar Is a Hub For All Type Of Clients Visiting For Leisure and Business Purpose. Nearby Kishangarh Airport and Ajmer Junction are Major Pick Up Points For Tourists. The Destination Is Also Centre for Many of the State and Central Government Office's and Bureau. It Is Also The Headquarters Of Western Railways Of India.
The Popular Tourist Attractions Of Both The Cities and Other Local Markets Make It Good Market For Luxury car Rental. However There are a Lot's Of High End Hotels In City Which Use's High End Vehicle For Their Clients. Our Company Provides All Sort Of Taxi Vehicles As Per requirement. All Our cars and New and Well Maintained. Our Friendly Staff and Neat and Clean Vehicle Gives You Full value For Your Money and Time. Our professional Office Staff Helps You To Choose perfect Vehicle As Per Your Budget. We Will Help You To Understand Total Costs and Other Expenses As Per The Usage and requirement Of Your Query.
Luxury Car Rental rates In Ajmer
| | | | | | |
| --- | --- | --- | --- | --- | --- |
| Vehicle Type | 8Hours Local Duty | Full Day 10Hrs Tour | Full Day 12 Hrs Tour | Extra Per Kms /Hour | Driver Allowance |
| Indigo/Dzire | 1500 | 1800 | 2400 | 10 / 150 | 100 |
| Tavera | 2000 | 2500 | 3200 | 11 / 200 | 100 |
| Innova | 2500 | 3000 | 3500 | 12/200 | 100 |
| Tempo Travel | 3500 | 4500 | 5500 | 17/200 | 200 |
| Mini Bus 15Seat | 4500 | 5500 | 6500 | 22/500 | 300 |
| Mini Bus 21Seat | 5000 | 6000 | 7000 | 25/500 | 500 |
| Bus 35Seater | 7500 | 10500 | 12500 | 30/500 | 500 |
| Bus 41Seater | 8500 | 10500 | 13500 | 35/500 | 500 |
| Bus 52Seater | 9000 | 10500 | 13500 | 35/500 | 500 |